As a parent or guardian, you will be wondering how to book a flight for a minor, as it is a daunting task, filled with various legal requirements, safety precautions, and concerns. However, the process can be stress-free and straightforward with the right knowledge and guidance.
You must know what booking options are available to you, what age restrictions are, and what documents are required for booking a flight for your unaccompanied minor child. Additionally, you'll learn how to prepare your child for an unaccompanied flight.
Your trip will be smooth and worry-free as we walk you through the correct steps and provide valuable information about booking a flight for a minor.
Let's start exploring different options.
How Do You Book a Flight for a Minor
Third-party websites like Expedia may offer convenient booking options but may not always be equipped to handle the specific requirements and restrictions of booking travel for minors.
I recently contacted Expedia's customer support to inquire about the procedure for booking a flight for a minor. However, I was informed that Expedia does not offer booking options for minors.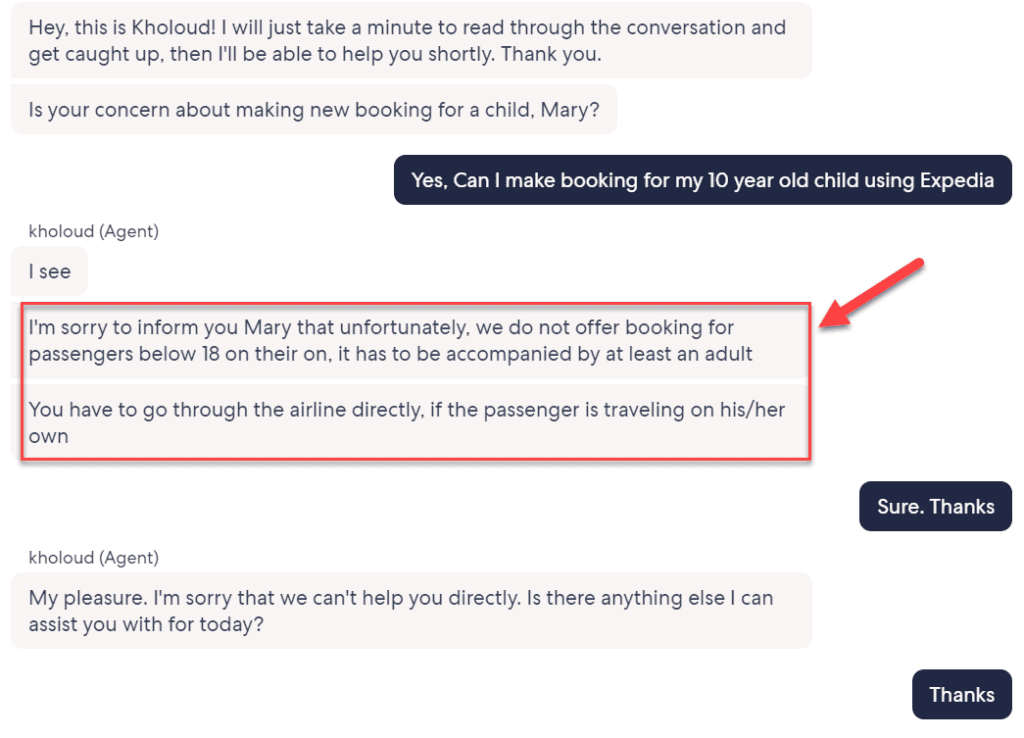 However, travel agents and agencies have the expertise and experience necessary to navigate the complexities of minor air travel. They ensure that all necessary documentation and permissions are in place and that the child's journey is as safe and comfortable as possible.
Additionally, airlines often have specific policies and procedures for unaccompanied minors. Working directly with the airline can help ensure that these policies are followed and that the child's journey is as smooth and stress-free as possible.
When booking a flight for a minor, you should keep the following in mind.
Flight Booking Options
Parents or guardians can book a flight for a minor using several options. These may include:
Booking through Airlines' websites: Many airlines and travel websites offer online flight options, a convenient and efficient way to book a flight for a minor. However, it is important to check the airline's specific policies and restrictions for minors before booking online, as some airlines may have additional requirements or fees for unaccompanied minors.
Booking via Phone: Another option is to book a flight for a minor over the phone with the airline or travel agency. It can be a good choice for parents or guardians with specific questions or concerns about the booking process or who prefer to speak directly with a customer service representative.
Booking Through a Travel Agency: Working with a travel agency or travel agent can also be a good option when booking a flight for a minor. Travel agents have expertise and experience handling bookings for minors and can provide personalized assistance and support throughout the booking process. They can also help ensure all necessary documentation and permissions are in place for the child's journey.
Airlines Age Restrictions
When it comes to air travel for minors, it is important to note that different airlines may have different age restrictions and policies.
For example, Air Canada does not allow unaccompanied minors under eight to travel alone. However, for children between the ages of eight and eleven, Air Canada offers essential unaccompanied minor services, which include dedicated check-in, boarding, and in-flight assistance.

Unaccompanied minor services are optional for children between the ages of 12 and 17 and can be requested for an additional fee. These services may include special seating arrangements, onboard supervision, and assistance with connections and customs procedures.
Some airlines may also require that minors travel only on direct flights rather than connecting flights to ensure their safety and comfort during the journey. This may be particularly important for younger children requiring additional assistance or supervision while traveling.
It is important to note that these policies and services may vary depending on the airline and the type of flight, so it is recommended to check with your airline directly before boarding.
Documents Required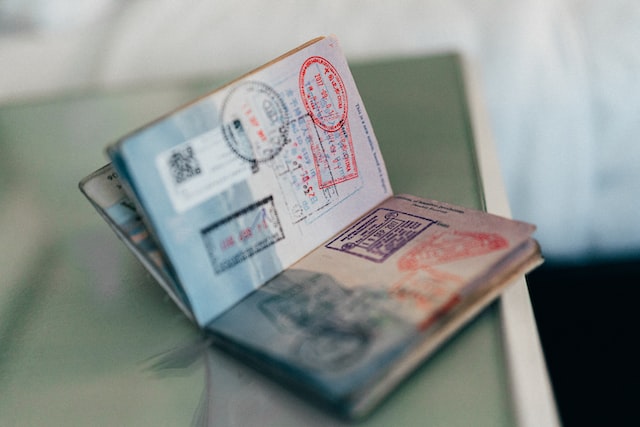 When booking a flight for a minor, there are several important documents that parents or guardians may need to provide. These may include
Passport and Visa Requirements: Depending on the destination, minors may be required to have a passport and/or visa to travel. However, a visa may not be required if a minor travels within their own country. Before booking a flight, research the specific requirements for the destination country and ensure all necessary documentation is in place.
Consent Letter Requirements: In some cases, parents or guardians may need to provide a consent letter granting permission for the child to travel. This letter should include the child's name, the intended destination, the date of travel, and the name and contact information of the adult accompanying the child.
Birth Certificate Requirements: Some airlines or destinations may require proof of the child's age and identity, such as a birth certificate. It is recommended that parents or guardians check with their airline or the destination country's embassy or consulate to determine if a birth certificate is required.
Release Form/Passenger Escort Form: Some airlines may require a release form or passenger escort form for unaccompanied minors. This form typically includes information about the child's travel itinerary, the person receiving it at the destination, emergency contacts, and any medical or special needs the child may have.
How to Prepare Your Child for an Unaccompanied Flight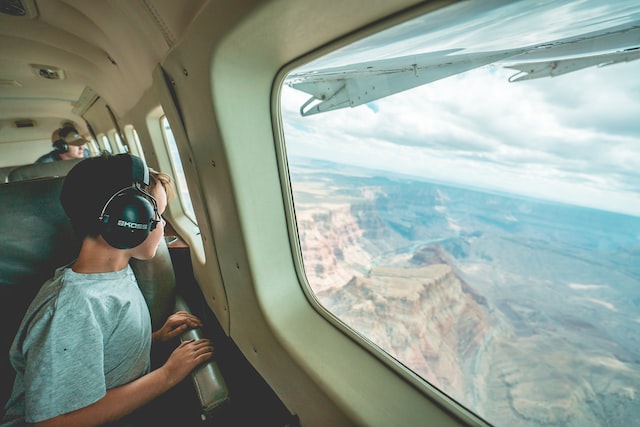 An unaccompanied flight can be stressful for your child, so preparing them beforehand can help ease their anxiety. Here are some tips to help you prepare your child for their upcoming flight:
Explain the process: It's important to explain the process of flying alone to your child. It includes what to expect during check-in, boarding, and disembarking, as well as the importance of following instructions from airline staff.
Pack essentials: Ensure your child has everything they need for the flight, including a change of clothes, snacks, and any necessary medication.
Review safety instructions: Review safety instructions with your child, such as the importance of wearing a seatbelt and following safety procedures during an emergency.
Arrange transportation: Make arrangements for transportation to and from the airport, and ensure that your child knows who will be picking them up on the other end. However, If you are accompanying your child to the airport for their flight, you should stay at the airport until his departure.
Provide contact information: Provide your child with a list of contact information, including your own and emergency contact information for the person picking them up.
Practice communication: Practice communication with your child before the flight, such as asking for assistance from airline staff and using a phone or computer to stay in touch during the journey.
Address concerns: Address any concerns your child may have about flying alone, and reassure them that they will be safe and cared for during their journey.
Wrapping Up
In summary, third-party websites may not allow you to book an unaccompanied flight for your child. However, you can still book these types of flights by visiting airline websites directly or working with a travel agency in your area.
We have enlisted the available options. While additional charges may be associated with these options, the process can be stress-free and provide peace of mind for parents or guardians.
Additionally, exploring the terms and conditions of the specific airlines with which your child will be traveling is highly recommended.
Furthermore, by following the guidelines mentioned above and preparing your child for their journey, you can ensure a safe and stress-free experience for you and your child. It will also allow your child to travel with confidence and independence.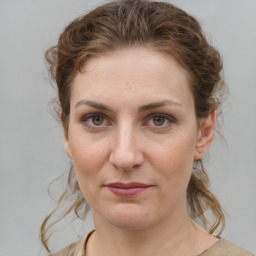 Mary James is a passionate aviation enthusiast and dedicated blogger who has carved a niche for herself in the world of airline-related content. She focuses on various topics, including airline news, industry trends, aircraft reviews, travel tips, and in-depth analysis of aviation policies and regulations. Her unique perspective and ability to break complex concepts into easily digestible content have made her a go-to resource for aviation enthusiasts and casual travelers.